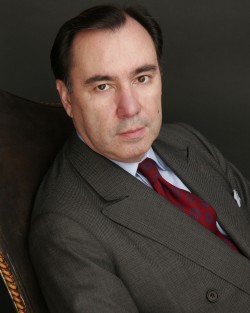 The beginnings of Alberto Reyes's life as a pianist are remarkably similar to those of any other gifted child. Born in Montevideo, Uruguay, in 1948, Alberto Reyes was reading music by the age of three-and-a-half; started formal lessons at six, and made his recital debut in Montevideo as an eight-year-old in October 1956, playing works by Bach, Beethoven, Schubert, Chopin and Debussy, repeating the program a month later in Buenos Aires.
More recitals followed throughout Uruguay, and at thirteen he made his debut with the Uruguayan Symphony Orchestra (SODRE) at Montevideo's Teatro Solís, the oldest extant theater in the Americas. For the next five years he led a busy life playing recitals and concerto performances, and making appearances on radio and television in Uruguay, Argentina and Brazil.
In 1966, as a recipient of a grant from the Organization of American States, Alberto Reyes came to the United States to study at the world-renowned Indiana University School of Music in Bloomington. A string of prizes and awards followed starting in 1969, including the Rio de Janeiro International Piano Competition, the 1970 Tchaikovsky International Competition in Moscow, the 1971 Leventritt Competition in New York, and the 1973 Van Cliburn International Competition in Texas, leading to successful tours in the U.S. (where he made his orchestral debut under the baton of Aaron Copland), Canada, the Soviet Union (with eight appearances in Russia, Belarus, Lithuania and the Ukraine) and South America.
In 1971 he was appointed to the Piano Faculty at Indiana University. Reyes made his recital debut in Moscow in 1972 and his New York debut at Lincoln Center's Avery Fisher Hall, in 1974.
Then, in 1976, his musical life underwent a dramatic departure from the usual script. Deeply doubtful of the attractions of a touring pianist's existence, and equally skeptical of his own suitability for the academic life, Reyes made a startling career change, and in just six months mastered the considerable demands of the profession of a simultaneous interpreter, earning a place on the permanent staff of the United Nations in New York City.
For thirty-one years until his retirement in 2007, Reyes, working as an interpreter in the U.N. Security Council and General Assembly, had a front-seat view of the political and diplomatic dimensions of the major international issues of our time, such as the two Gulf wars, the dismantling of Apartheid, the war in the Balkans, the Middle East conflicts, the World Trade Center attack and the war on terrorism, as well as the international investigation of human rights abuses in Pinochet's Chile, and participated in U.N. conferences in Europe, Asia, Africa and Latin America.
During those three decades, Reyes was content to limit his infrequent concert appearances to New York City, (where he played a recital at the 92nd Street Y in 1988 that was praised in The New York Times for "[his] way of capturing each work's essence - the quality of its nervous energy, its musical fingerprint - and his ability to transform it into something like a living organism"), and his native Montevideo. Perhaps, the relative anonymity in which he worked during those years was partly responsible for his falling victim - along with many other pianists such as Vladimir Ashkenazy, Yefim Bronfman, Marc-André Hamelin and John Browning- to one of the recording industry's most notorious scandals: the Joyce Hatto hoax. In fact, in 1991, Connoisseur Society had released his recording of Franz Liszt's complete Verdi Opera Paraphrases and Transcriptions, a recording that was praised in American Record Guide, Gramophone (U.K.) and Scherzo (Spain) among other publications. Two tracks of that CD were lifted in their entirety by Concert Artists Recordings, an English label, and passed off as the work of British pianist Joyce Hatto who, at the time, was being hailed by The Boston Globe as "the greatest living pianist that almost no one has heard of". In 2006, William Barrington-Coupe, Hatto's husband and producer of the Concert Artists Recordings, admitted responsibility for the fraud.
After his retirement from the U.N. Reyes returned to his professional activities as a pianist, recording a double-CD of music by Chopin that was released by VAI Audio in late 2009. The recording garnered unanimous praise in publications such as Fanfare, International Record Review, BBC Music, Pianist, Scherzo and ABC, in the U.S., the United Kingdom and Spain. In 2010, in honor of the Schumann Bicentennial, VAI released Reyes's recording of the composer's Kreisleriana, Kinderszenen and Fantasy in C Major, eliciting accolades from Gramophone and American Record Guide and Fanfare.
His recent public appearances have included recitals in Wigmore Hall and Cadogan Hall in London; at Merkin Concert Hall and Weill Recital Hall at Carnegie Hall in New York City; in Washington D.C.; at the International Piano Festival of Houston, Texas; at the Beethoven Festival of Bogotá, Colombia, and at the Teatro Solís' "Great Performers" series in Montevideo, Uruguay. He was a soloist with the Santa Fe Symphony Orchestra in Argentina and with the Philharmonic Orchestra of Montevideo.
In July 2017, Gramophone named his recording of music by Bach-Busoni, Franck, Chopin and Schumann for VAI "Editor's Choice", as one of the "best new classical albums".
Alberto Reyes had only two teachers in his pianistic life, and his playing reflects the influence of two major piano schools of the early XX Century. In Uruguay, his teacher was Sarah Bourdillon, who throughout the 1930s studied at Alfred Cortot's Ecole Normale de Musique in Paris. In Bloomington, his mentor was American pianist Sidney Foster who, along with Jorge Bolet, Shura Cherkassky and Abbey Simon, studied with David Saperton at The Curtis Institute of Music in Philadelphia, which was then under the aegis of legendary pianist, Josef Hofmann. In the words of London critic Colin Clarke, Reyes is "a musician who clearly hearkens back to the Golden Age of piano playing in the Romantic tradition".
Mr. Reyes nowadays divides his time between New York, Cuernavaca, Mexico, and Montevideo. His other passion besides music is the thoroughbred horse, and his favorite vacation is a trip to Royal Ascot, Glorious Goodwood, Newmarket, Saratoga Springs, or the Breeders' Cup Championship Series, although his handicapping skills lag far behind his pianistic prowess.