Back to List
News
October 5, 2018
Alberto Reyes plays in the Woods Piano Concert Series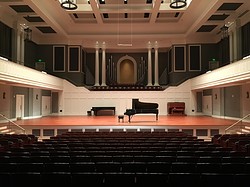 Pianist Alberto Reyes plays a recital in the Woods Piano Concert Series, in Nashville Tennessee.
Hels annually, the Woods Piano Concert Series honors the memory of Merrydale Sutherland Woods, a piano teacher and patron of music, who created an endowed scholarship for piano majors at Belmont University's School of Music and a fund for the purchase of Steinway pianos at that school.
Reyes's recital, held a McAfee Concert Hall, included Chopin's and Schumann's Fantasies, and four Trancriptions of verdi Operas by Liszt.