Back to List
Acclaim
American Record Guide reviews Alberto Reyes plays Schumann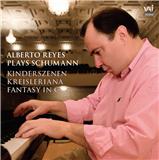 In an article headlined Schumann Fantasy in C that reviews recent Schumann recordings by Alberto Reyes, Anton Kuerti and Tamas Vasary, Alan Becker writes:
on Kreisleriana:
"Reyes completes his two-disc Schumann traversal with the blockbuster Kreisleriana. In all his choice of works covers Opp.15-17, and though the Fantasy takes an entire disc, it sell at two discs for the price of one.
This Kreisleriana is easily the high point of Reyes's Schumann. His playing is always clean, the pedal not overused. Sections are carefully delineated and sensitively played. The faster movements go swiftly, excitingly so in the "Sehr rasch" and without unduly stressing the downbeat of each measure - a problem for some pianists. Reyes writes his own informative notes...Uruguay has much to be proud of in its native son"
...Reyes gives us a memorable Kreisleriana "
on the Fantasy in C:
"Reyes, on the other hand, fully uses the pedal and comes across as a more traditional interpreter of the music. He also takes a somewhat dreamy approach, sending the music forth more slowly-or does it just seem that way?"
"The opening movement of the (Vasary) Fantasy is not unlike Reyes, with dreamy romanticism a strong part of the mix."
on Kinderszenen:
"In the Kinderszenen both Reyes and Vasary are sensitive to the need for simplicity and color. If neither replaces favorites of the past...they still offer their own rewards"
—
Alan Becker,
American Record Guide